Our aim is to help people live with dignity and respect in their own home. This could be companionship, personal care or complex care including palliative and end of life care.
We specialise in helping people with a variety of illnesses such as Cancer, Motor Neurone Disease (MND), Multiple Sclerosis (MS), Ischaemic Heart Disease (IHD), Chronic Obstructive Pulmonary Disease (COPD), Renal and Liver failure, Stroke and many more live life with dignity and respect.
Eidyn Care provides a range of discreet home care services including:
Gentle awakening and assistance to rise,wash and dress for the day
Assistance with meal preparation including breakfast, lunch, dinner and snacks
Help with prompting, assisting and administering medications
Companionship – all our visits are a minimum of one hour so we can have time to have a chat and have someone there who can empathise
Light housework including cleaning, washing and irons. We can also collect shopping or medications and arrange appointments.
Complex care including the use of hoists and stand aids
We recognise every clients' needs are different and we will work with you to develop a person centred care plan to ensure you have experienced caregivers who can support you, your family and your friends through all stages of your life.
We can help anyone live
with dignity and respect
Companionship
Companionship can help people to stop feeling lonely, by having a friendly face pop in to have a chat, play games, watch TV, go for a walk, or accompany to your favourite activities. 
Dementia
Our carers can help to support people with Dementia to live independently at home, giving you the peace of mind that your loved one is cared for and safe. 
Hourly care
 Our visits are a minimum of 1 hour long, which gives our carers time to deliver the best quality of care they can.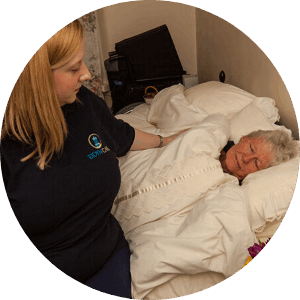 Housework
 Certain chores can be difficult to keep on top of, especially for the elderly or those with specific needs. Our team are here to help with light housework. 
Medication
It can be challenging to administer medication, whether the challenge is remembering when to take medication, or reading the instructions. Our carers can help with medication prompts.
Motor Neurone Disease
 We can help to support people with motor neurone disease (MND) to remain living independently at home, working alongside other healthcare providers to manage symptoms and keep you as comfortable as possible.
Multiple Sclerosis (MS)
Our carers are experienced in supporting people living with MS to lead fulfilled lives in their own home. We provide a bespoke package of care tailored to your needs, with each carer being highly trained to help manage symptoms. 
Palliative Care at Home
We can provide support to anyone who is living with a life-limiting illness, allowing them to stay living in the comfort of their own home for as long as possible. 
Shopping
We offer a shopping service, where our clients can benefit by one of the team collecting basic supplies or accompanying you or your loved one on a shopping trip. 
Stroke
Eidyn Care can assist with rehabilitating you after a stroke. We will work alongside family and other healthcare professionals to develop a stroke care plan entirely bespoke to your needs.
About us
We are proud to be a family owned and run, multi-award-winning business. Our mission is to enable our clients to live at home in dignity.
Get in touch now
and tell us how we can help