Personal and palliative care at home.
Receive reliable, professional
support with Eidyn Care.
We are a multi award winning private care at home company based in Edinburgh and Fife. We are family run and owned which allows us to deliver more personal and tailored care services to our clients. We currently support clients in the North of Edinburgh, including Corstorphine, Cramond, Trinity and Leith.
We offer a broad range of services including companionship, personal care, assistance with housework and shopping right through to specialist and palliative care.
Our passion, drive and motivation comes from our desire to offer care at home that allows you to live with dignity. We can help you to live in your own home comfortably, safely and with the peace of mind that you are cared for.
Key to our success is our fantastic team of carers, affectionately known by our clients as the Eidyn Angels. They are the reason why we have been in the top 20 care providers 5 years in a row.
We can help anyone live
with dignity and respect
Companionship
Companionship can help people to stop feeling lonely, by having a friendly face pop in to have a chat, play games, watch TV, go for a walk, or accompany to your favourite activities. 
Dementia
Our carers can help to support people with Dementia to live independently at home, giving you the peace of mind that your loved one is cared for and safe. 
Hourly care
Our visits are a minimum of 1 hour long, which gives our carers time to deliver the best quality of care they can.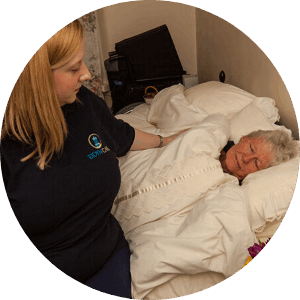 Housework
Certain chores can be difficult to keep on top of, especially for the elderly or those with specific needs. Our team are here to help with light housework. 
We are proud to be featured in the top 20 home care providers 5 years in a row. The latest inspection of our Edinburgh branch, carried out by the Care Inspectorate stated the following:
90% of respondents agreed they were overall happy with the quality of care.
Quality of care and support was graded as excellent.
Quality of management and leadership was graded as very good.
Clients reported that they were extremely happy with the personalised support they received.
2019 ScottishCare
Palliative & End of life Care Award
2022 ScottishCare
Care Coordinator Finalist
We are looking to recruit Carers to join our team. Whether you are working in care now, have done previously, have nursing experience, or are looking for a new opportunity, we'd love to hear from you.
6 Reasons why our carers stay with us
Each visit gives you time to deliver quality care.
You will have a Mentor to support and listen to you.
You get ongoing, regular training and support.
We give you guaranteed hours.
We pay you the Living Wage.
We guarantee you a wage increase every year.
When you join Eidyn Care you join our family.
Get in touch now
and tell us how we can help